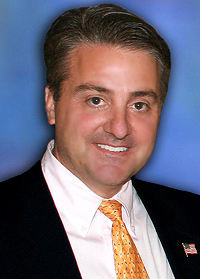 Frank J. Addivinola, Jr.
Candidate for U.S. Representative
It is time for real leadership on Capitol Hill to bring meaningful reforms to stop the abuse of tax payers' money and break the partisan dead-lock in Congress. Our state and our country are in desperate need of leaders who would bring solutions to the economic and policy challenges we are facing as a nation. In addition to millions of the people out of work, our country has accumulated unprecedented and unsustainable amounts of national debt. We cannot continue to stay on this road any longer and must take meaningful actions to restore fiscal responsibility. Congress has the responsibility to act as a united front to put our hard working citizens back to work so their families will share in prosperity and our communities can stay strong.
My name is Frank Addivinola and I am Republican candidate for U.S. Representative in the 5th Congressional District. I am running against the incumbent Ed Markey who has been in office for 36 years.
The 5th Congressional District includes: Arlington, Ashland, Belmont, Cambridge, Framingham, Holliston, Lexington, Lincoln, Malden, Medford, Melrose, Natick, Revere, Sherborn, Southborough, Stoneham, Sudbury, Waltham, Watertown, Wayland, Weston, Winchester, Winthrop and Woburn.
I will bring my well-rounded practical experience, leadership skills and independent thinking to represent voters of the 5th District and stop the culture of special interests and insider deals on Capitol Hill.
I am running against the 36-year incumbent who consistently voted for higher taxes and unsustainable budgets while opposing meaningful initiatives that reduce wasteful governmental spending. The incumbent also voted against the bills that would promote job creation for people in Massachusetts and would reduce the federal deficit that will be passed onto the future generations of our country.
When elected as U.S. Representative, my legislative priorities are to lower tax burdens on individuals and businesses and to implement series of real money-saving reforms to reduce our federal budget deficit and put our economy on the road to growth and prosperity. I want to bring balance to Congress, and by having a healthy debate, we can come up with effective solutions to our problems and improve the lives of the people of Massachusetts and the nation.
This time you can vote for someone who will represent the people's concerns and will not cater to the demands and pressures financed by special interests groups in Washington D.C. I want to end the culture of partisanship, patronage and favoritism on Capitol Hill.
So far, our campaign is leading in voter contact, distributed literature, yard signs placed and overall name recognition. My supporters and I worked very hard and I am determined to win the primary and defeat Markey in November. However, with the three-way primary, I need each and every vote to become your nominee and retire the 18-term incumbent.
I am the only candidate in this race with the experience and skills necessary to unseat the entrenched incumbent and advocate on your behalf in Washington. I am asking for your support in the Republican Primary on Thursday, September 6th.

When you cast your ballot, think about the impact your vote will have on the future of our Commonwealth and families that are struggling to survive in these tough times. I am Frank Addivinola and I'm asking for your vote and will not take your trust and confidence in me for granted. I would be honored to have your support and be able to represent the great people of the 5th District as their next U.S. Representative!
Sincerely,

Massachusetts 5th Congressional District